OCT Boxes Art Museum
A delicate combination of art and nature

BOXES ART MUSEUM at Overseas Chinese Town(OCT) is built and financed by the OCT Group,a non-profit pubilc benefit organization operated and managed by The Oil Painting Department Curatorial Group of Guangzhou Academy of Fine Arts.This museum was built within Shunfeng Mountain Wetland Park in Shunde District. 1067 Square meters in surface area,the exhibition hall is 477 square meters,including three standard sized halls.A wetland park spans 100,000 square meters surrounding the Museum,as the Museum's open-air public exhibition space featuring public art installations combines the charm of wetland ecosystems with that of art. BOXES ART MUSEUM has invited Fan Bo to serve as Museum Directors,Zhou Li to serve as Artistic Director,and Liu Ke to serve as Executive Museum Director.Official opening day is slated for September 28th,2017.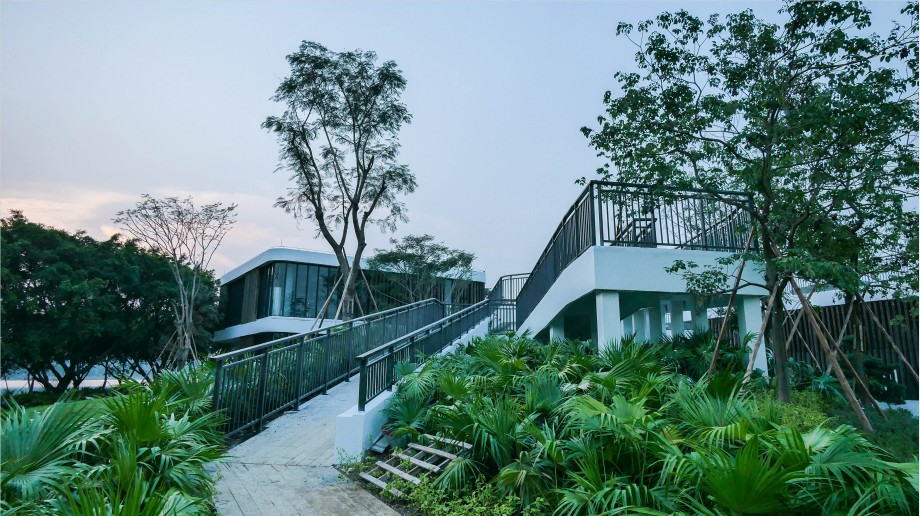 Culture Bridge Connecting Local and International

BOXES ART MUSEUM is composed of four componnents:an exhibition district,professional exchange district,public education district,as well as open studios area.All aeras are open for free public access.

The Museum strives to integrate regional and international resources,manifesting in a high-standard of artistic temperament,relying on the Academy of Fine Arts as both research and educational platforn.The Museum combines Shunde local specialties with modern development,uniting are exhibition,and public discourse with local culture.It also promotes local,social and international art praxis as well as cultural production.This Museum strives to satisty diverse viewer needs.Art experts are merely curious viewers alike derive pleasure and interest in the Museum's offerings.



An All New Dimension in Museum and City

BOXES ART MUSEUM is a reflection on rapied industrialization and urbanization.The museum site a Shundfeng Mountain Wetland Park contrasts sharply with surrounding glass tower architecture.It conveys the relationships between art,nature and rapid urban development.This union of the Museum and Shunfeng Mountain Wetland Park brings a rich and lively contemporary art atmosphere to local communities satisfying the need for constantly developing spiritual and cultural life.

Today,BOXES ART MUSEUM attempts to bring a strictly international standard of spatial dimension to Shunde area, giving the city a new cultural calling card and bringing new energy to the Pearl River Delta Area's culture ecosystem.